Thread Painting
refers to an image or design on fabric being completely composed of stitching. Similar to Embroidery, it is done using
Free-motion
machine stitching. The needle and thread are used as a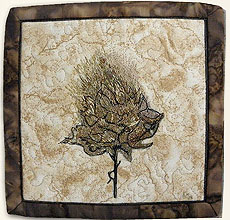 painter would use a brush and paint with the Fiber artist guiding the fabric underneath. Using the speed of the sewing machine to keep the needle (brush) in motion, the image is built up with layers of threads that give form, color, depth, shading and texture to the artwork.


Free-motion
machine stitching enables the fiber artist to be as realistic or abstract as he or she chooses. Because of the density of stitching on flexible fabric, it is necessary to reinforce the fabric with a
stabilizer
allowing it to remain flat and not
shrink
as it is pulled in by the motion of the needle.
Thread Sketching
refers to a Fiber artist
sketching
with his or her sewing machine's needle and thread usually over
some sort of design. The sketching gives the design an extra emphasis or appearance of spontaneity. The underlying design can be a photograph transferred to the fabric, a hand-painted, dyed or printed design or image or a plain, blank fabric where the Fiber artist uses the thread as one would a pencil. The resulting sketch has an originality that is very compelling. Different from
Hand-stitching
which is limited to how quickly one can put thread to fabric,
Thread sketching
is possible because of the speed of sewing machines. One can sketch almost as fast as one can draw with a pencil. There are no limits to the subject matter that can be
Thread sketched
or
Thread painted
. Techniques utilized are simply Fabric, Thread, a Fiber Artist and a Sewing Machine. (see
Glossary
for expanded technical details)